Local Authority Services Ltd. (LAS) and Essex Energy Corporation (EEC) have created a new program together for the municipalities of Ontario. LAS and EEC have collaborated to introduce the Solar Photovoltaic (PV) Program for those communities that are taking advantage of the Feed-in-Tariff (FIT) Program.
The FIT Program is offered by the Ontario Power Authority (OPA). FIT Program is the first of its kind in North America. Offering stable income for renewable electricity production generated from renewable sources such as, biogas, landfill gas, biomass, waterpower, on-shore and off-shore wind and solar photovoltaic. The Solar PV Program encourages the growth of renewable energy throughout Ontario. A major incentive for this program is it guarantees a 20 year revenue.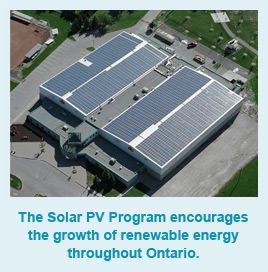 Any vacant roof top space on facilities in a municipality would qualify for the FIT Program. For those municipalities that are interested in the FIT Program, applying for the Solar Photovoltaic Program would assist and benefit them in many ways.
LAS and EEC work together to provide great benefits to the municipalities in Ontario that enrol in the Solar PV program. This program includes a complete turn-key and hassle free project management for design, development, and the installation of a rooftop solar photovoltaic array to each community. These services are provided by EEC.
The intent of this program is to allow Ontario municipalities to embrace Ontario's Green Energy act both, financially and environmentally. By having municipalities accept this program, it will give each community leadership in the Green Energy Act, by using solar photovoltaic (PV) arrays that produce renewable power.