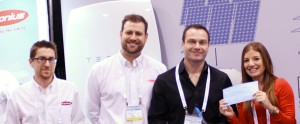 Essex Energy Corporation is the recipient of the Fronius SnapINverter Reference Project Competition for the 600kW DC Solar PV system at the Atlas Tube Centre.
On December 8, Fronius Canada announced the exciting news at the Solar Canada 2015 Conference & Exposition in Toronto, Ontario.
"Fronius played a key role in this project as a robust and reliable inverter solution for the longevity of the contract," stated Andy Smyrnis, Project Manager at Essex Energy Corporation. "The Atlas Tube Centre was one of the few contracts awarded by the OPA based on the Unconstructed Rooftop Solar Pilot Project. We are very proud of this project and are thrilled to be recognized by Fronius Canada.